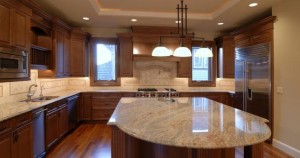 Cleaning Procedures & Recommendations
General Cleaning Clean stone surfaces with a cleaner designated safe for natural stone. Use a clean mop on floors and a soft cloth for other surfaces for best results. Don't use more than the recommended amount of any cleaning product. Too much may leave a film, causing streaks. Change rinse water frequently. Do not use products that contain lemon, vinegar or other acids on marble, travertine or limestone as these can etch the surface of the stone. Do not use scouring powders or creams; these products contain abrasives that may scratch the surface.
Floor Surfaces Dust mop interior floors frequently using a clean non-treated dry dust mop. Sand, dirt and grit do the most damage to natural stone surfaces due to their abrasiveness. Mats or area rugs inside and outside an entrance will help to minimize the sand, dirt and grit that can scratch a stone floor. Be sure that the underside of the mat or rug is a non-slip surface. Do not use vacuum cleaners that are worn, the metal or plastic attachments may scratch the surface.
Bath and Other Wet Areas In the bath / shower or other wet areas, soap scum can be minimized by using a squeegee after each use. Consult the Care Guide for detailed instructions and recommended products on how to remove soap scum as well as resolving other issues that can arise in a bath area.
Counter/Vanity Top Surfaces Clean your countertops daily with a soft cloth or paper towel and a residue free cleaner designated safe for natural stone.
If Streaking Occurs
Buff the countertop with a clean white terry cloth or paper towel if streaking occurs.
Use a Good Stone Polish Occasionally
For additional luster on those special occasions, apply a good stone polish to the surface of your countertops.
Seal if Necessary
Countertops may need to have a penetrating sealer applied. If a sealer is applied, be sure that it is non-toxic and safe for use in food preparation surfaces.
Outdoor Pool & Patio Areas In outdoor pool, patio or hot tub areas, flush with clear water and use a mild bleach solution to remove algae or moss.
Stain Treatment and Other Issues
If possible, immediately blot spills with a clean paper towel. If something has soaked into the stone and stained it, a poultice may need to be applied.
Sealing
Your natural stone and grout may need to be periodically sealed.
For more information, please contact R.Bratti Associates in Alexandria, VA for all your natural stone needs.